Statement:
This blog is a personal blog. None of expressed materials have any connection with my current employer , clients and any company that i work for.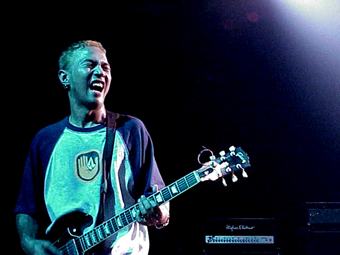 I started my entrepreneurial career as professional musician. My band released our first self-produced album when i was 21 years old. My entrepreneurial achievements in music industry land me honors in various national music magazines (latest was Rolling Stone's 150 best Indonesian Song Ever) and Indonesia Music Award. In 2006, i was among top 10 British Council's Young International Music Entrepreneur of the Year award.
My post-music professional career spent in various corporate managerial positions. I lead various department in marketing, sales, operations and multimedia, in several life style international companies in English speaking environment. My latest position in corporate management gave me the experience to lead 150 employees that operates 14 branches in 5 cities. The company own IDR 55 bio assets that generates IDR 26 bio annual sales.
After my corporate career, i found myself own and run a one-man consulting company, operates from home and the internet. I had help build, maintain and consult 20 small business organizations' internet presences from various industries. I manage around 40 websites that generates 250k pageviews monthly.
In addition to my hands-on experience managing businesses, i finished my graduate study at Padjajaran University in 2005, where i awarded Master of Management degree, majoring Entrepreneurship Management. I was the fastest graduate student in history of the university's business management program, and i got 3,43 average point from 4.0.
After all i've done as a creative entrepreneurship professional, i (almost) feel like my heart set as a lecturer. My lecturing career started at Pelita Harapan University in 2009, where i spent 1 year to lecture Entrepreneurship, Artist Management, Business Communication, Media Planning, Grant Writing for The Arts, and The Music Industry. However, I find a new home in Cerahati New Media Communication and glad to be able to continue my passion as creative professional, where i served as Digital Media Producer.
From above experiences, i gain the following skills:
Entrepreneurship & corporate management skills: Start-up development, business planning, leadership, marketing management, business and inter-personal communication, retail sales operations, event management, advertising, copywriting.
Music industry skills: Music production, music recording, event management, artist management, music promotor, copyright management, royalty management, music sales & distribution, music publishing, music publication.
Web development skills: Project management, search engine optimization, CSS/XHTML layout, php, social media optimization, information architecture, content management system, internet copywriting.
Computer skills: Office: Apple's pages, numbers & Keynote, Apple's mail, MS Word 2007, MS Excel 2007, Concept Draw MindMap Pro, Concept Draw Project. Design: Adobe Photoshop CS 4, Adobe Illustrator CS 4, Pixelmator, Corel Draw X3. Web development: Adobe Dreamweaver CS 4, Transmit FTP, Coda text editor, Screenflow, MarsEdit blog editor, WordPress content management system. Entertainment: iMovie 09, Garage Band 09, iPhoto, Adobe Soundbooth CS 4, Apple's Aperture
Connect with me:
Please stop by to my LinkedIn page to see my professional profile.
Tools
Since most of my works involve computing, it's fair to say that i cannot live without my computing tools, which is listed below:
1. Hardware
My main machine is a 27″ iMac latest model on my desk at Cerahati, with 12 gb of ram, while also maintain my Macbook Air 2011 model for working on the go. I also use several external storage offline and offline totaling my storage around 2 TB.
For mobile and communications, I am helped with an iPhone 4S 32 gb and an iPad 2 3G. I also use Magic Mouse and Apple Wireless Keyboard (I just can't stand MBP's keyboard). I also own 22″ ViewSonic monitor, not the greatest, but totally helpful when i'm on coding tasks (sold!). For managing home office wifi, I use Apple's Airport Express.
2. Software
For web design related tasks, my life depend on Coda and Transmit (still use version 3 though – upgraded to version 4), also Pixelmator for simple image editing. Heavy Adobe software like Dreamweaver and Photoshop CS 5 help me handle heavier tasks. For browser, i prefer Safari 5 and Chrome for Mac for browsing needs, while nothing (yet) able to beat Firefox for its support on web development add ons. On CMS of choice, it's definitely WordPress.
For office related tasks i use Apple's iWork, it's a cheap but elegant solution for office needs and much more useful than any Microsoft's expensive and bloated Office. And also Concept Draw Office for Mindmapping and Project charting.
For blogging i use MarsEdit, and NetNewsWire (switch to Reeder permanently) that sync with Google Reader to follow my RSS subscription. On the iPhone i use Reeder app for RSS, Instapaper (start using Readability too, will decide my default app later) for web reading and iBooks app for ebook reading.
For creating tutorials i use Screenflow, quite pricey but definitely worth every cents! I also use Skitch for quick screen capturing.
So that is all (for now), please subscribe to get more updates in the future.
Thank you so much for stopping by to my blog. Wishing you a good smiling day
Cheers.
Robin Malau